Arkansas Gazette, 1990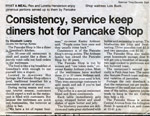 The Pancake Shop is like a diner in Grandma's kitchen. The 50-year-old restaurant is small and quaint like a diner. A gravelly voice calls out food orders to the waitresses. The food is like a big breakfast at Grandma's with enough to eat yourself into a stupor.

Located in downtown Hot Springs, the Pancake Shop offers a good, traditional breakfast for a reasonable amount of money.

During racing season and summer tourist season, customers should expect a wait as the restaurant is filled with customers. But because the waitresses are quick and businesslike, the turnover at tables is fast.

"We have a lot of repeat business," co-owner Keely Ardman said. "People come here once and they usually come back."

Consistency is one of the Pancake Shop's strong points. The Ardman family has owned the Pancake Shop for 26 years.

The Pancake shop is run by women and "one token male," co-owner Keely Ardman jokes. Most of the waitresses have worked there 15 to 20 years, Ardman said.

The make sure your meal is hot. They even encourage customers to split meals and ask if you've had enough to eat.

The coffee is a special restaurant blend and flows continuously. Each table immediately gets syrup, whipped butter and small dishes of apple butter and jelly. The blueberry pancakes are delicious and taste great slathered with butter and swimming in syrup. The blueberries are juicy and fresh-tasting. The Pancake Shop also makes great homemade sausage. Just #3 will get you a breakfast of sausage, two eggs cooked to preference and hot buttered toast.

The restaurant's second specialty is Petit Jean ham. The menu also features French toast and several varieties of pancakes.

Perhaps the only drawback is that the restaurant can get smoky. Because of the small size and closeness of the tables, cigarette smoke tends to hang in the air. Ceiling fans help a bit.

The Pancake Shop is across Central Avenue from the Arlington Hotel. It opens at 6 a.m. and closes at 12:45 p.m.