Arkansas Gazette March 28, 1986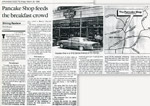 This is a city where a lot of breakfasts are eaten. It's probably a combination of the late nights in the clubs, the fresh air on the lakes and the excitement at the racetrack. Plus, tourists on vacation like to sleep late and eat a big breakfast to fuel them for trips to the tower, Magic Springs and other attractions.

To help answer this demand for breakfasts a few places have been established to do nothing but serve breakfast. The breakfast business is one of the few restaurant-oriented operations that still thrive on Central Avenue.

Favorite spot

Probably my favorite for this meal is The Pancake Shop at 216 Central Avenue. Judging from the crowds that packed it last weekend, a lot of other people appreciate it, too. The place serves 500 to 600 people on a good weekend and since the place seats fewer than 100 - that means a lot of turnover. To give you an idea of the volume, one cook used 90 dozen eggs on a busy Sunday.

The Pancake Shop is owned and operated by Ruth R. Ardman. She's the friendly one greeting people at the door and directing traffic to empty tables. She and her late husband, Tom, brought the place 20 years ago from a couple who had operated it for another 20 years. Ardman said a couple of women started the place in 1940 just down the street at 133 ½ Central. They sold it to someone named Mason. For their brief ownership, the Masons called it Masons' Pancake Shop.

The Menu, Ardman said, probably hasn't changed in more than 40 years. It offers the kind of fare that Southerners expected back when a big, stomach-filling breakfast was the norm.
The thing that impresses a customer immediately is the aroma coming from the stacks of pancakes with syrup and butter and the fried meats that seem to mound over the sides of each dish.

If someone already is eating one of the huge ham stakes, you decide immediately that you must have one, too. But then you're likely to notice the large, crusty sausages on another plate and decide that you've not yet decided.

Full Center cut

The friend large ham steak is a full center cut. It will cover a platter by itself, but they'll put two eggs on it anyway for $5.05. The "small" ham order is more than enough for most people. It, too, is a thick cut of a good ham. With two eggs it is $4.40. That comes with toast, which can be slathered with the bowls of jelly and apple butter that grace each table.

If you opt for the sausage, it's only $2.90 with two eggs, the same price as two eggs with bacon. The crusty and spicy sausage patties are the equal of three or four from most other establishments. They look like they were patted out in the kitchen rather than cut from a stick. Since people come here for big breakfasts, it is not uncommon to see diners chow down on eggs and ham, then switch over to a big plate of pancakes for dessert. The namesake of the restaurant is probably the most popular item, Ardman said.

A short stack of plain cakes is $1.70 and three pancakes is $1.80. Buckwheat is $1.95 or $2.10 and those with fruit (blueberry, apple or banana) are $1.90 or $2. Meats are extra and with these the full center cut of ham is only $3.95 and bacon or sausage is $1.65. The pancakes are not silver-dollar size. They're more the size of a 45-rpm record size. They're also relatively thin as pancakes go.

The restaurant also makes omelets – plan, bacon, cheese, ham or ham and cheese – for $2.30 to $3.20. The menu also has fruits and juices, cereals – oatmeal, cream of wheat and dry cereals for 95 cents each – and orders of assorted toasts with jelly. They always serve the toast buttered unless you order it dry. The restaurant does not serve biscuits or gravy.

Despite the crowds, the waits for seating are usually short, and the waitresses and kitchen do a remarkably good job of getting food out quickly.

If a piercing, high-pitched sound screeches through the dining room while you are eating, don't panic. Even though it sounds like a wailing cat has just stepped on the pancake grill, it's usually just one of the cooks who uses that voice to call out the number of the waitresses when an order is ready. Some of the employees, including that cook and her wail, have been at the restaurant longer than Ardman.

The Pancake Shop is not a fancy place, but it's fine for breakfast. There are a few bar seats near the cashier. Most of the tables are set for two or four persons, but there are a few larger ones. There are a couple of picture displays on the wall. Most of the pictures are of friends and customers. Naturally, there are several horse-racing pictures from jockeys, trainers and owners. A series of baseball pictures came from John Rice, a major league baseball umpire who is in most of them. He comes to Hot Springs to visit.

The Pancake Shop is open from 6 a.m. to 12:45 p.m. daily.