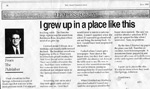 The Group Travel Leader, 1995

I grew up in a place like this
I had a breakfast in Hot Springs, Arkansas a couple of weeks ago that was one of the most pleasant meals I've enjoyed in a long while. The Pancake Shop, right across the street from Bathhouse Row, is a place where most of us grew up.

I arrived about 7:30 a.m. on a weekday and found a table toward the back. The breakfast crowd was beginning to file in. There were local business people reading the Wall Street Journal at the counter. There were tables of tourists like me. And there were waitresses that someone stole from my childhood and whisked away to Hot springs when I wasn't looking.

Something told me to ask if they took credit cards and my waitress said no. I told her I would need to run to a cash machine. I wasn't surprised when she asked if I wanted to go ahead and eat and bring the money back. In fact, I would have been surprised if she hadn't.

I asked where I could get a newspaper. Next door at the liquor store, but they don't open until 8:00. An attorney sat down at the table next to me. He was in town at a bar association meeting. He said he'd been coming to meetings here for 15 years and that our waitress had waited on him every time.

When I finished my blueberry pancakes I asked if I could stay until the newspaper stand in the liquor store opened. She said yes and the attorney asked me if I'd pick up a paper for him when I went over. Sure, no problem.

By the time I finished my paper the place was full. Families on vacation, local businesspeople. A downtown florist popped in and dropped off a vase of fresh flowers at the cash register and left without a word. I grew up in places like this. It's nice to know where they went. Hot Springs, Arkansas.

Good town.